Did you know that Android has camera apps that you can download and give your smartphone a DSLR-like feature?
Yes, the utility of camera phones is not hidden from anyone today, especially when it comes to photography.
Smartphones have reduced the need for cameras in a way because we cannot carry DSLRs everywhere.
Although mobile cameras have become very advanced, but its inbuilt camera app is a bit weak in terms of features.
The native camera app on most smartphones only captures photos in auto, and you can't even do photography in manual mode.
Those who know the basics of photography will know that by controlling the shutter, aperture and ISO in manual mode, you can take great pictures.
In this post, we have brought you 3 such best and free Android camera apps, by downloading which you can also do great photography.
3 Best and Free Android Camera Apps [2022]
Google's Play Store is flooded with countless camera applications, out of which it is difficult to find the best one.
I tried countless manual camera apps, but some only filled filters by telling advanced features and finally I found these three best camera apps.
If you want to do advanced mobile photography like DSLR, then try these best camera apps today.
| | |
| --- | --- |
| 1. | Open Camera |
| 2. | hd camera |
| 3. | Camera MX |
[crp]
1. Open Camera | open camera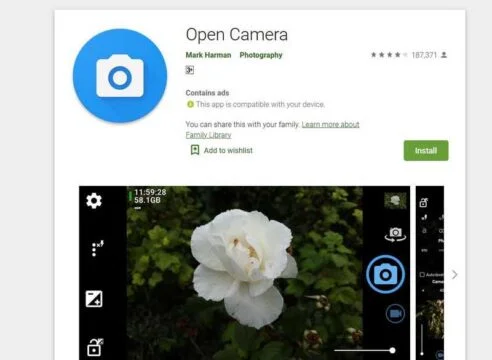 What is Open Camera App?
According to me, out of these five manual camera apps, Open Camera is the top class Android application.
You will ask what is so special about Open Camera among hundreds of apps?
My Samsung S7 Edge and now the Samsung S10 have always had manual controls, but at times some advanced features were missing, like focus bracketing or bit rate selection in videos.
Some such advanced features are found in the Open Camera app, which is available absolutely free on the Android Play Store.
Not only this, Open Camera is an open source app which means it will always be free and you can modify the application if you have knowledge of coding.
It is a very lightweight application and you can install Open Camera even if your phone is old and supports Android 4.0.3 or higher.
Keep in mind that in order to activate many features of this app, your smartphone must have support for camera2api feature.
Make sure to read our Camera2API  post if you want to know how much advanced camera features your mobile supports.
Although at first you will find its interface a bit difficult, but you will see all the features one by one, then it will start to make sense.
Open Camera is a great application not only for photography but also for manual videography.
If you comment then I can also bring advanced tutorial of open camera app so that you will be able to understand its difficult features easily.
What are the special features of the Open Camera app?
The Open Camera app, like a DSLR camera, has a ton of advanced features that aren't available on a smartphone.
Let us know what they are.
1. Since it's open source, it doesn't come with any ads (that's awesome, isn't it!)
2. Full manual controls – shutter , aperture , ISO , exposure and focus
3. Remote control feature and that too with voice timer
4. Upside down preview with auto crop, grid and external mobile lens
5. Facility to add day and time stamp, text, location geo tagging and subtitle
6. Apart from back, front camera camera also has panorama feature and excellent auto stabilization feature
7. Focus assist, bracketing, burst, raw and slow motion video support
8. Noise reduction and dynamic range optimization feature for best quality photos in low light
9. Useful dslr features like histogram, zebra, focus parking in one app
10. Multiple scene modes, effects and white balance settings
Note : Note, some advanced features may not be available on all smartphones as it will depend on their hardware and Android version.
How to download Open Camera?
Download Open Camera App from here.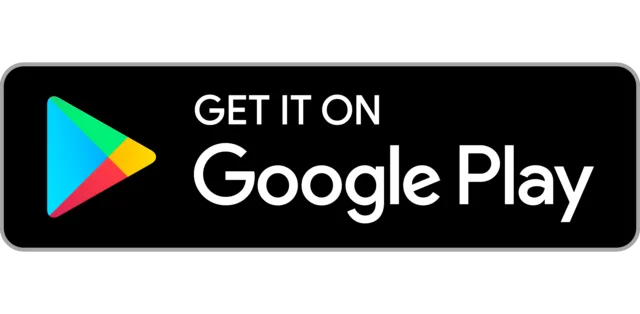 2. HD Camera | hd camera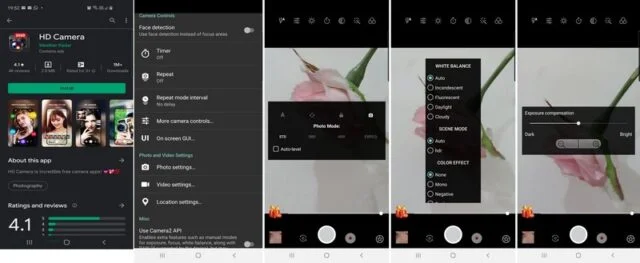 What is HD Camera App?
This app, as per its name, is a high definition and full featured manual camera application which comes absolutely free in Android.
There are many camera apps similar to the same name on the Google Play Store, but this HD camera made by the "Weather Radar" company is fantastic.
In the above screenshot you can see that this camera app has many such features which you get only in a DSLR.
For those who know a little advanced photography, HD Camera can fulfill all their needs and with its help you can take amazing mobile photography .
There are some great hidden features in this camera software like RAW support, focus and exposure control which you can enable with the help of Camera2API feature.
What are the special features of HD Camera app?
If you download HD Camera then you get these advanced features :-
1. Full manual controls – shutter, aperture, ISO, exposure and focus
2. Superb High Definition photos and videos
3. Intelligent Face Detection (Photo + Video)
4. Geo-tagging (Photo + Video)
5. HDR mode for better photography in changing lighting
6. See the effect of inbuilt filters even before taking photos and videos
7. External mic feature for video recording
8. Electronic Image Stabilization
9. Easy to choose camera and video quality and resolution
10. Continuous shooting, focus and exposure lock feature
How to download HD Camera?
Download Original and Full Manual Control HD Camera from here.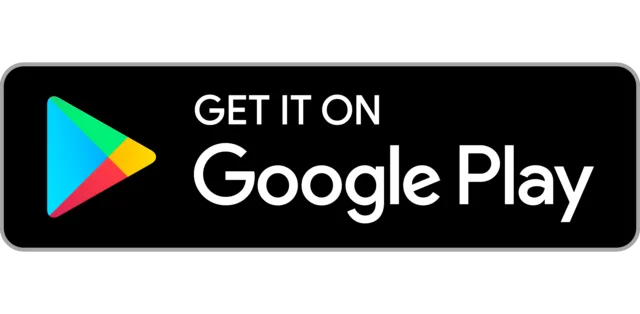 [crp]
3. Camera MX | Camera MX
Camera MX – The multifaceted camera App for Android
What is Camera MX App?
Camera MX is a great camera app in which you can take photos as well as edit them easily.
Along with basic features like touch to focus, zoom, timer, it also has a full function menu with a variety of filters, frames and photo effects.
With the help of this app, you can create animated photos and videos and add many effects to them.
A new Live Shot feature has been added to Camera MX, with the help of which you can also take moving photos.
Personally, I really liked the shoot the past feature of this application, in which the camera takes several photos of that subject before taking any final photo.
The advantage of this is that the final result may not be that good, so you can go back and choose the best photo from the gallery.
The Shoot the Past feature is great for taking pictures of fast action or kids.
Although I do not like effects very much, but if you want to upload your photo on social media in a different way, then this app is for you only.
Although it has a lot of features and the tilt shift function is great, but the lack of advanced manual controls is a bit sore.
The Camera MX app is a great option for those who have risen above the basic mode, and best of all, it's completely free.
What are the special features of Camera MX app?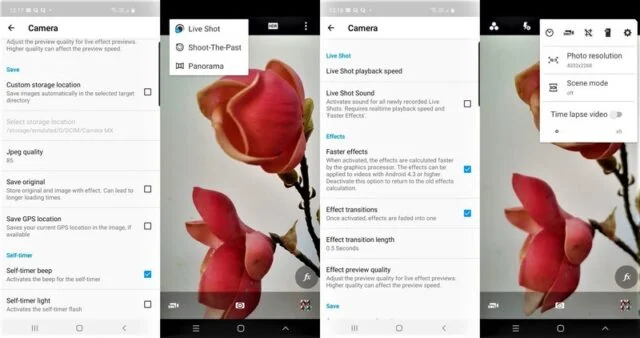 In Camera MX you get these great features :-
1. Superb High Definition photo and video quality
2. Free Application and Less Size
3. JPEG Quality Adjustment
4. Geo-tagging (Photo + Video)
5. HDR mode for better photography in changing lighting
6. See the effect of inbuilt filters even before taking photos and videos
7. Live Photo and Shoot the Past Feature
8. Tilt Shift, Mirror Effect and Self Timer
9. Easy choice of photo and video quality and resolution
10. Inbuilt photo editor and amazing social sharing features
How to download Camera MX ?
Download camera MX app from here.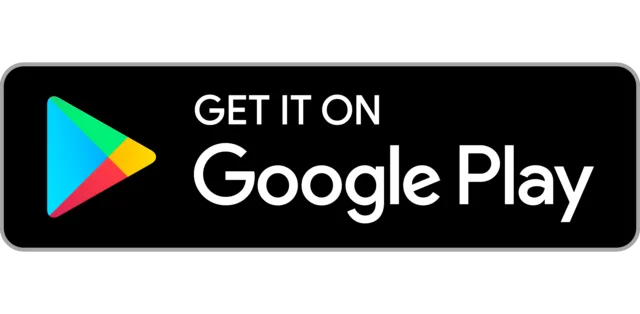 And finally …
While doing photography with native or inbuilt mobile camera apps, you must have felt the lack of some feature at some time or the other.
Although Android has given many features and settings for the camera, but sometimes it is not enabled in your smartphone.
As I mentioned earlier, you can check what kind of advanced camera feature your smartphone supports by putting Camera2 API in your phone.
Out of the countless camera apps lying on the Google Playstore, according to me, here I have told about only three apps which are best for photography.
Really you will see that there are so many advanced features in these that your smartphone will really become like a DSLR.
If you are an advanced photographer , then of course Open Camera app is the best for you.
HD Camera and Camera MX are great options for those who want to go beyond auto mode and try some advanced features.
This list will be updated from time to time so that you can get to know about the latest camera apps.
It is my endeavor to give you all the information in very simple language, which you do not have any problem in understanding.
You comment and tell us how did you like this conversation and what more do you want to know in it?